The selection period for ONLY PreK-2nd grade families begins on Monday, October 26 and ends at 5 p.m. on Friday, October 30, 2020.
As the School District transitions to a hybrid learning model, families will be offered the option of remaining with 100% digital learning for their child(ren) or transitioning to a mix of in-person and digital remote learning (hybrid learning). Whatever learning model you choose, we look forward to continuing to support your child's educational needs.
Click here for google form!
Click below for Kindergarten Registration Options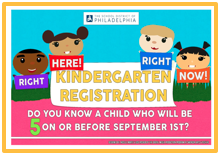 Our Mission
We are committed to providing our diverse community of learners with appropriate academic challenges in a safe and supportive environment. Our school practices productive collaboration between students, staff, and families to promote systems and structures that support the social and academic development of all students as lifelong learners.
We are striving for every child achieving 95% or higher attendance for the school year! This means a student shouldn't miss more than 9 days of school the entire 2020-2021 school year! Please do your very best to get your child online every day! Our attendance expectations remain the same even though we are virtual! Please reach out to Ms. Yanga, Attendance Designee, or the School Counselor, Ms. Dajevskis, for assistance with attendance issues! Email: mcyanga@philasd.org or edajevskis@philasd.org

Class dojo, email, text, and using our online Excuse note (below) are all accepted ways to report your child's absence!