3/25/21 Hybrid Learning Plan Phase II Rollout: all students in grades 3-5 and complex needs students in grades 6-8 only will return on April 26th.
All students attending in person need to bring their Chromebooks with them to school.
Students should arrive for breakfast between 8:15AM and 8:30AM in uniform at the cafeteria doors.
Only students whose families consent to weekly random COVID testing will be allowed to attend. If you have not done so already, complete the COVID student testing consent form here: https://tinyurl.com/testconsent21
Additionally, any family in grades K-2 who has NOT signed up for hybrid instruction, but is interested in having their child attend beginning the week of April 5, 2021 should complete the survey below. Survey closes March 23rd: https://tinyurl.com/hybridlearnSG
Please reach out to your child's teacher if you are unsure about if you signed your child up for hybrid instruction. 
Click below for Kindergarten Registration Options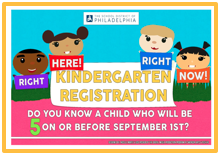 Our Mission
We are committed to providing our diverse community of learners with appropriate academic challenges in a safe and supportive environment. Our school practices productive collaboration between students, staff, and families to promote systems and structures that support the social and academic development of all students as lifelong learners.
We are striving for every child achieving 95% or higher attendance for the school year! This means a student shouldn't miss more than 9 days of school the entire 2020-2021 school year! Please do your very best to get your child online every day! Our attendance expectations remain the same even though we are virtual! Please reach out to Ms. Yanga, Attendance Designee, or the School Counselor, Ms. Dajevskis, for assistance with attendance issues! Email: mcyanga@philasd.org or edajevskis@philasd.org

Class dojo, email, text, and using our online Excuse note (below) are all accepted ways to report your child's absence!